S. Sathiya Keerthi
---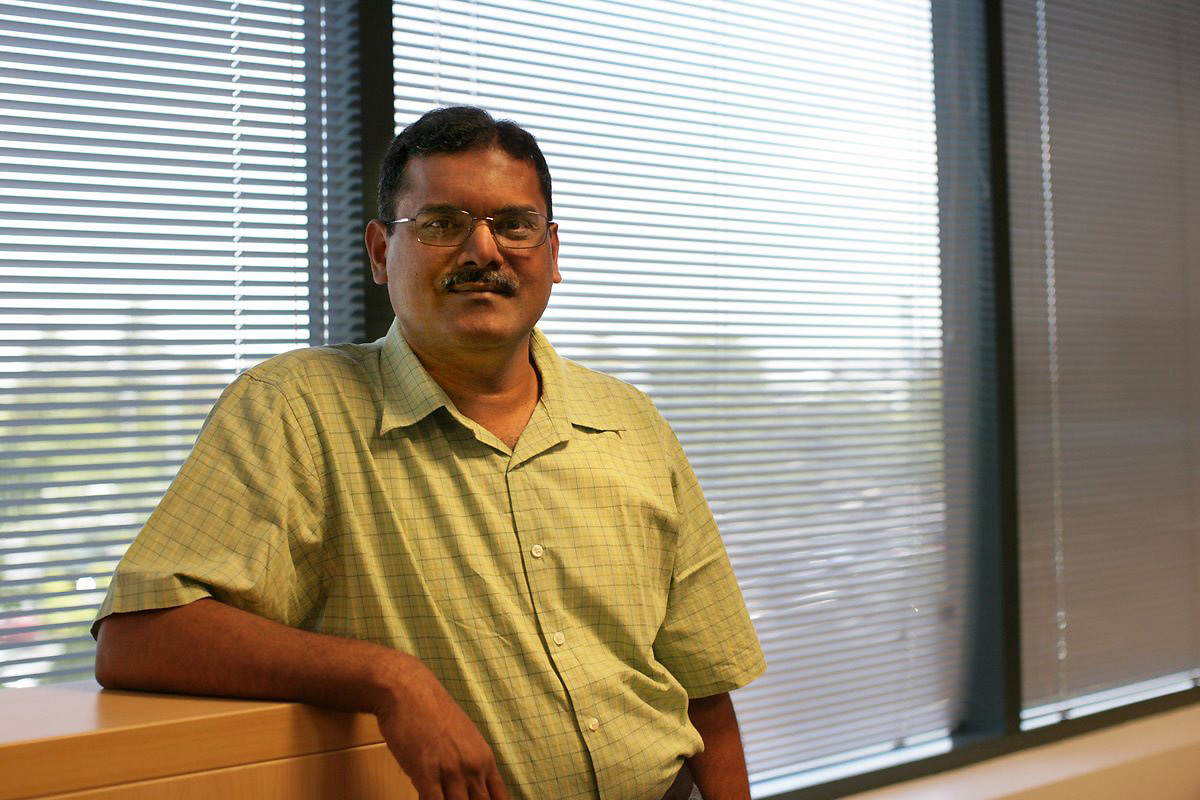 I am a principal scientist in the Cloud and Information Services Lab (CISL, pronounced as sizzle), a new applied science group in Microsoft with Raghu Ramakrishnan as the head. I am located in Mountain View, CA. From Jan 2004-Apr 2012 I was with the Machine Learning Group of Yahoo! Research, in Santa Clara, CA. My recent research has mainly focused on the development of scalable algorithms for large margin methods including those for structured outputs, and information extraction.
Contact: keerthi at microsoft dot com








---
I am playing an advisory role in the organization of the Mysore Park Workshop on "Distributed Computing For Machine Learning and Optimization" to be held from 18th December to 20th December 2013 at Mysore, India, organized by Dhruv Mahajan, Chih-Jen Lin and Vikas Sindhwani.
---
In 2010 I attended and gave a talk at GilbertFest, a symposium in honor of my Ph.D thesis advisor, Elmer G. Gilbert. Check out the symposium page, which also has pdfs of his classic papers in Control and Optimization. I am honored to have some of my joint papers with him in that list.
---
Check out these fast linear classifier trainers:
LIBLINEAR-a Library for Large Linear Classification written by Chih-Jen Lin and his students. It has codes for the methods covered in the ICML'08, KDD'08, ICML'07/JMLR'08 papers given below.

SVMlin-a suite of Fast Linear SVM solvers for Supervised and Semi-supervised Learning written by Vikas Sindhwani.

---
Citations of my papers in Microsoft Academic Search
Citations of my papers in Google Scholar
Publications
To view the publications from a specific year, select the year from the list below:

2013 2012 2011 2010 2009 2008 2007 2006 2005 2004 2003 2002 2001 2000 1999 and Earlier
---
2013
Tractable semi-supervised learning of complex structured prediction models. With Kai-Wei Chang and S. Sundararajan, ECML, 2013. [abstract]

Semi-supervised learning has been widely studied in the literature. However, most previous works assume that the output structure is simple enough to allow the direct use of tractable inference/learning algorithms (e.g., binary label or linear chain). Therefore, these methods cannot be applied to problems with complex structure. In this paper, we propose an approximate semi-supervised learning method that uses piecewise training for estimating the model weights and a dual decomposition approach for solving the inference problem of finding the labels of unlabeled data subject to domain specific constraints. This allows us to extend semi-supervised learning to general structured prediction problems. As an example, we apply this approach to the problem of multi-label classification (a fully connected pairwise Markov random field). Experimental results on benchmark data show that, in spite of using approximations, the approach is effective and yields good improvements in generalization performance over the plain supervised method. In addition, we demonstrate that our inference engine can be applied to other semi-supervised learning frameworks, and extends them to solve problems with complex structure.
2012
2011
2010
Efficient algorithms for ranking with SVMs. With O. Chapelle. Information Retrieval Journal, 13(3):201.215, 2010. [abstract]

RankSVM (Herbrich et al, 2000; Joachims, 2002) is a pairwise method for designing ranking models. SVMLight is the only publicly available software for RankSVM. It is slow and, due to incomplete training with it, previous evaluations show RankSVM to have inferior ranking performance. We propose new methods based on primal Newton method to speed up RankSVM training and show that they are 5 orders of magnitude faster than SVMLight. Evaluation on the Letor benchmark datasets after complete training using such methods shows that the performance of RankSVM is excellent.
2009
Graph based classification methods using inaccurate external classifier information. With S. Sundararajan, Tech Report, 2009. [abstract]

In this paper we consider the problem of collectively classifying entities where relational information is available across the entities. In practice inaccurate class distribution for each entity is often available from another (external) classifier. For example this distribution could come from a classifier built using content features or a simple dictionary. Given the relational and inaccurate external classifier information, we consider two graph based settings in which the problem of collective classification can be solved. In the first setting the class distribution is used to fix labels to a subset of nodes and the labels for the remaining nodes are obtained like in a transductive setting. In the other setting the class distributions of all nodes are used to define the fitting function part of a graph regularized objective function. We define a generalized objective function that handles both the settings. Methods like harmonic Gaussian field and local-global consistency (LGC) reported in the literature can be seen as special cases. We extend the LGC and weighted vote relational neighbor classification (WvRN) methods to support usage of external classifier information. We also propose an educient least squares regularization (LSR) based method and relate it to information regularization methods. All the methods are evaluated on several benchmark and real world datasets. Considering together speed, robustness and accuracy, experimental results indicate that the LSR and WvRN-extension methods perform better than other methods.
2008
2007
2006
2005
2004
2003
2002
2001
2000
1999 and Earlier (To be added)
Optimal control of a somersaulting platform diver: a numerical approach . With Murthy Nukala, IEEE Conference on Robotics and Automation, 1993. [abstract]

The somersaulting maneuver of a platform diver is studied. An effective numerical approach for obtaining an optimal solution for this motion is given. The diver is modeled as a planar system of interconnected multibodies, and controllability is proved in a sense dictated by the problem. A time-optimal control problem with state and control constraints is set up and solved using a numerical approach. The numerical solution agrees well with motions executed by professional divers.

A fast procedure for computing the distance between complex objects in 3-dimensional space . With Elmer Gilbert and Dan Johnson. IEEE Journal of Robotics and Automation, 1988. The algorithm in this paper, The GJK Algorithm has great use in video games, computer graphics, robotics motion planning etc. See this video.. the presenter seems to face great difficulty pronouncing my name! [abstract]

An algorithm for computing the Euclidean distance between a pair of convex sets in Rm is described. Extensive numerical experience with a broad family of polytopes in R3 shows that the computational cost is approximately linear in the total number of vertices specifying the two polytopes. The algorithm has special features which makes its application in a variety of robotics problems attractive. These features are discussed and an example of collision detection is given.

Optimal infinite-horizon feedback laws for a general class of constrained discrete-time systems: stability and moving-horizon approximations . With Elmer Gilbert. Journal of Optimization Theory and Its Applications, 1988. This is a highly cited paper in the area of Model Predictive Control (MPC). See this survey paper. [abstract]

Stability results are given for a class of feedback systems arising from the regulation of time-varying discrete-time systems using optimal infinite-horizon and moving-horizon feedback laws. The class is characterized by joint constraints on the state and the control, a general nonlinear cost function and nonlinear equations of motion possessing two special properties. It is shown that weak conditions on the cost function and the constraints are sufficient to guarantee uniform asymptotic stability of both the infinite-horizon and moving-horizon feedback systems. The infinite-horizon cost associated with the moving-horizon feedback law approaches the optimal infinite-horizon cost as the moving-horizon is extended.
Last updated: May 15, 2012